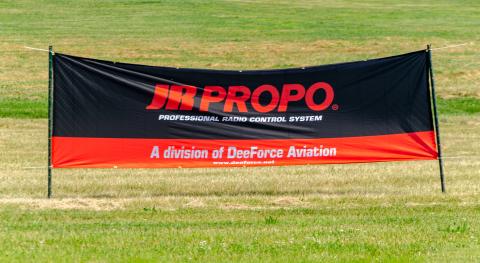 By Rich Whitlow (rwhitlow@gmail.com)
Everyone converged on the AMA's national flying site in Muncie, Indiana, on Saturday after the July Fourth holiday. There was plenty of practice flying and preparation. Everyone was putting last-minute touches on his or her flights before the start of competition on Sunday.
This year we are excited to have Dee Force Aviation as a major sponsor of the IMAC Nationals. We truly appreciate the company supporting all of these outstanding pilots!
Saturday evening everyone met up for the initial pilots' meeting. This is where the event schedule and expectations were discussed. Also, the event team was introduced, and a judging refresher was given to make sure everyone was ready to start.
Sunday morning started slow, with a Muncie fog keeping the ceiling low. But when the competition started, it was full speed ahead with lots of opportunities for a full day of flying.
There were some great flights and successes and some struggles. We had a couple of dead-sticks and a complete DA-200 engine changeout that was successfully done between rounds. (With lots of help from a lot of the competitors!)
All in all, we had a great and successful first day!
Thanks to everyone here and we look forward to more great days to come!
See current scores here.