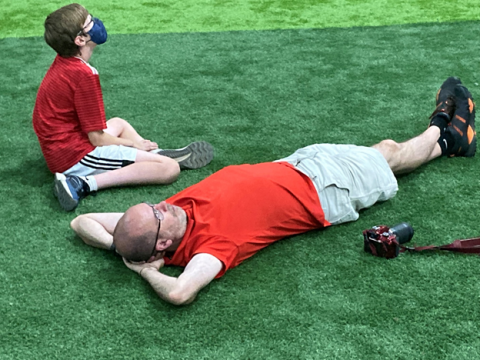 By Rob Romash
Nats Eve and a new day
As we filter through another full day, we realize it's half over?!?! Nearly.
Last time I showed some "focus" launch poses. What if your model doesn't just go hypersonic and then either explodes or glides for about a minute? What if you had much more time?
Here are some favorite lounge poses. The most popular is the "laid back." It's crazy how a firm, flat back feels after two days of being up, standing, and craning your neck up. Kudos to the artificial green stuff guys.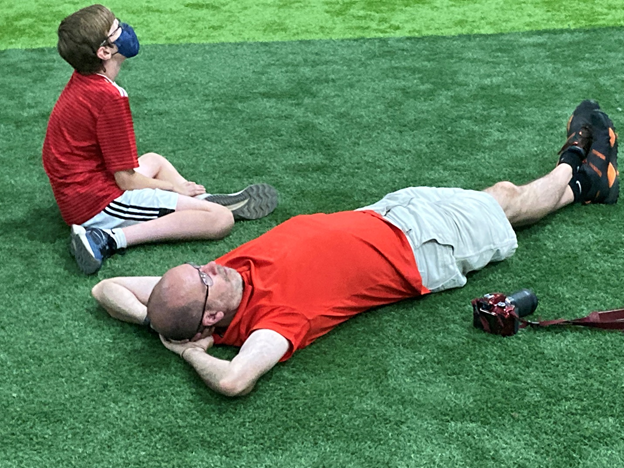 Here we see the total-in-control lay back style.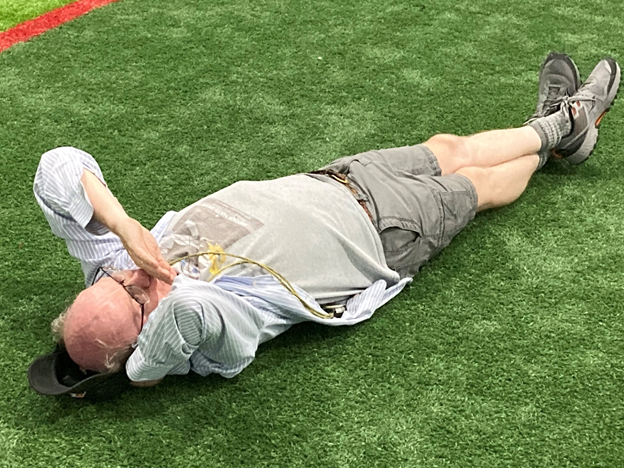 John has nearly the total laid-back style, but just with a not-so-subtle tinge of concern.
And what is he doing here?!?!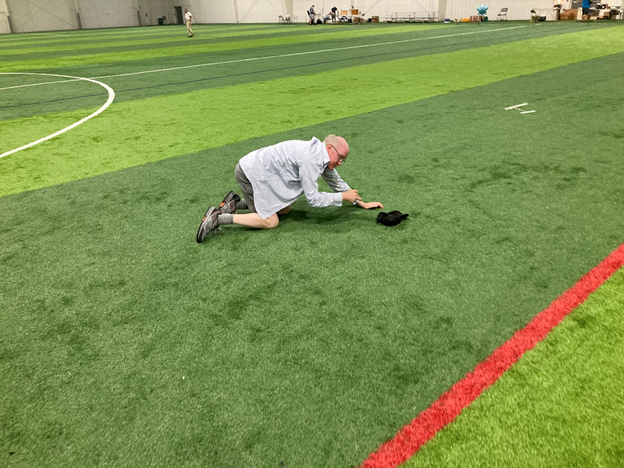 And then,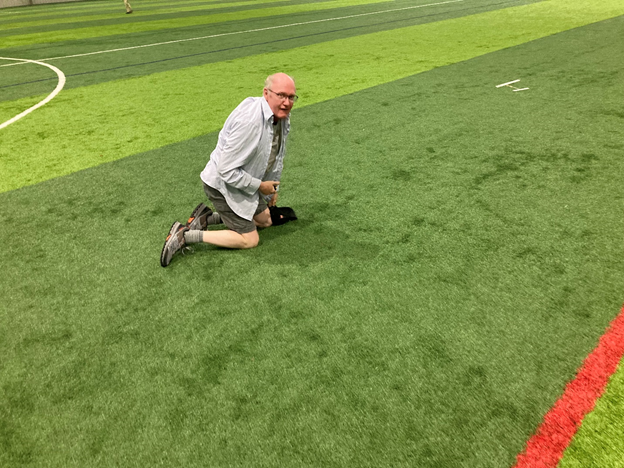 Hope he's Oay but then!
John transforms into his body double for Thursday! The older, younger Benjamin Button.
These focused contestants knew their plane would land, and right in front of them. All planned.
John was overheard saying he actually invented the rectangle … I thought Norm from This Old House did.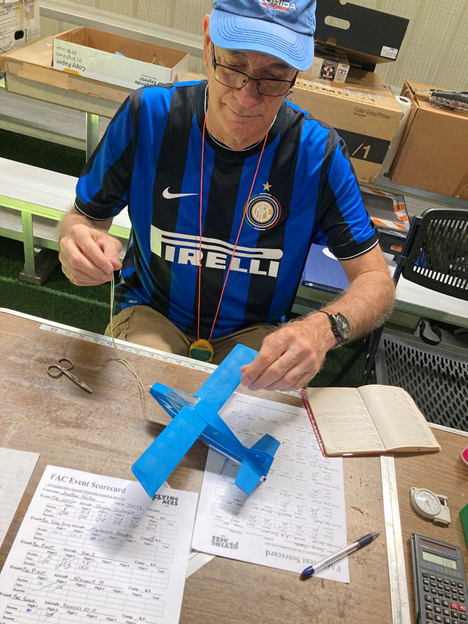 Another well-coordinated outfit/model combo. Peanut Scale Zippy Sport and a workspace so neat it is worthy of an "Inviting Places" Award.
The larger scale events ran Thursday afternoon without a hitch. For me, watching that amount of work flying around with no means of an alternate flight plan its more nerve racking then a 1-gram model hitting a wall. This Scale stuff can have real battle damage at any time.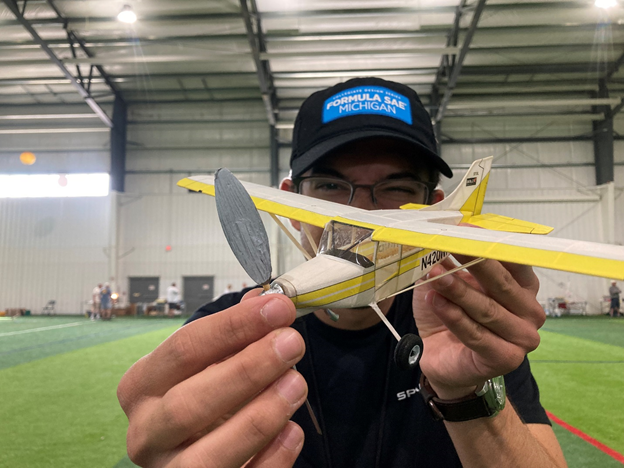 A-6 is a model that I have overlooked for far too long. I made my version in extremes for wingspan and aspect ratio. This class is known for a rule set that pushes the contestant to ty different approaches/wing shapes and all in between. Even though mine is a sexy model and flew well, it just didn't for long enough here.  See below for A-6.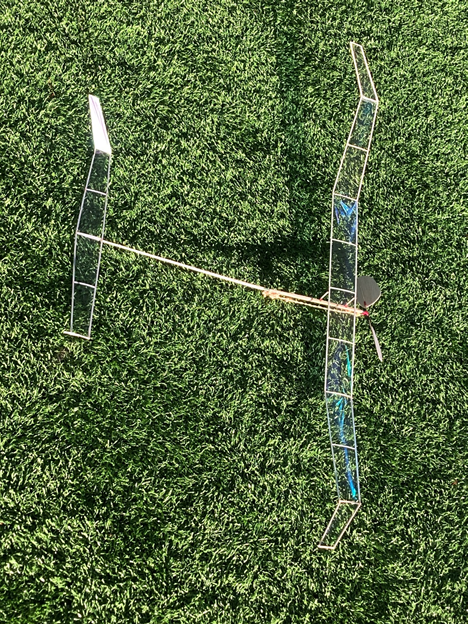 Dr. Rectangular beat me …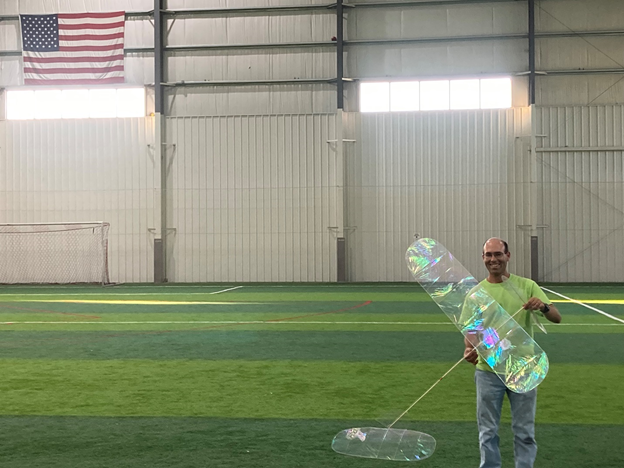 It's not the size of your model, but how you fly it.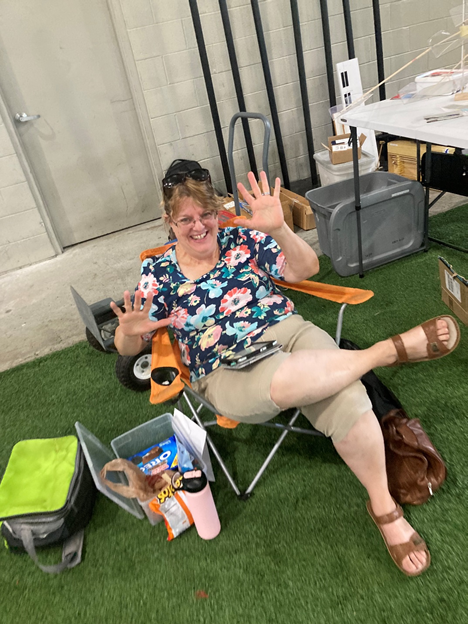 She has it down—iPad, Netflix, cooler, OREOs, snacks, snappy outfit for anything, comfy shoes, and she clearly knows Tai Chi so stay away when she Is finishing up season 7 of GOT or you die now.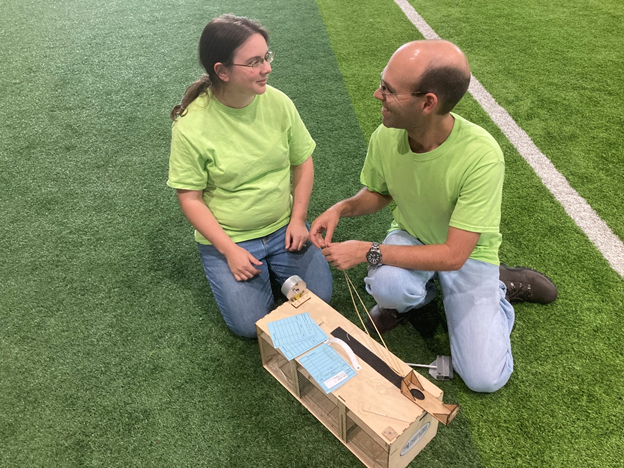 Yes true love is possible with model airplanes—as long as all involved are nerds.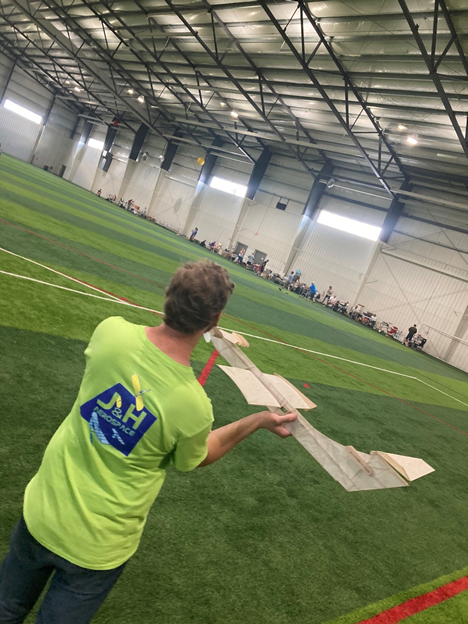 "Whoa man is that your Profile Scale Caspian Sea Monster!!" No freakin' way!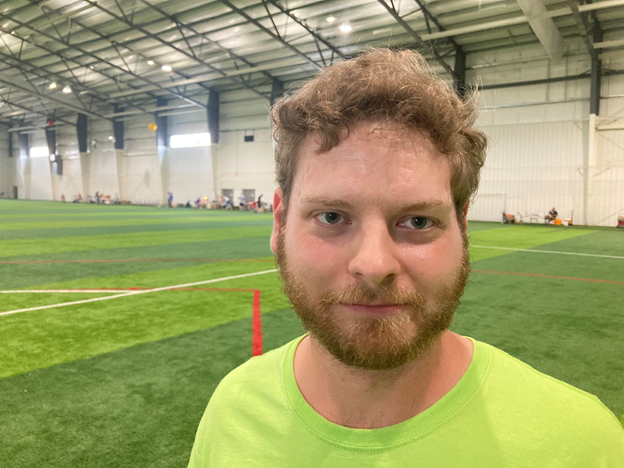 "I see no sea monster comrade." You must be mistaken, please come this way. I have some further questions.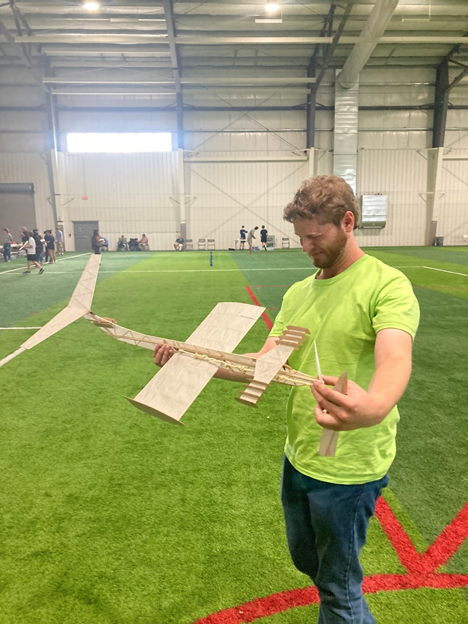 I take it all back. Yes, my Ekranoplan and I shall conquer the world with it.
Oops Pop, not another doppelganger! Ned is the best though!
They can both tell you when the space station will fly over tonight.
| | | | | |
| --- | --- | --- | --- | --- |
| Thu Jul 22, 10:29 PM | 5 min | 17° | 10° above NW | 10° above NE |
I knew it anyway.
Friday, July 23, we creep up to the last day of flying, getting some extra laughs and jokes in, and some final possible upsets with a new event. I will do a recap after the dust settles.
Still sprits are very high here and we are doing what we love as before, mostly.
This week and the past also saw some real aviation history happening—private space flight as a scheduled event! Pretty close. Sure, those in the know understand that with these fledgling craft, it's a bit more like glamorous falling right now. It will come around quick enough.
Looking around here and at AMA events and pretty much just your standard kids, they are savvy, smart, and capable and I'm pretty sure some of these kids here flying will likely be going to Mars.
All, the model aircraft galactic records book will be changing ahead. What does/will an indoor model airplane contest on Mars look like? Any takers. Events? How long would an EZB fly ...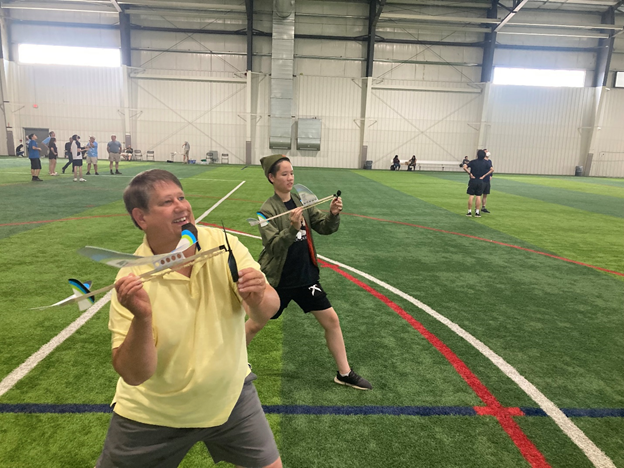 Beautiful technique. Note the stance and focused, but still fun, expression and the hand positions. Clearly a team to reckon with!
I've said it so many times before, a couple days flying models in a sweet indoor venue with good folks is the best therapy you can find. It is so true, like so many hobbies that require that extra bit of focus, thus canceling out most or all else around unless it's the item at hand for a brief time. Everything is brief enough so wind the heck out of it no matter what it is. (Okay maybe not small mammals) and have a good time.