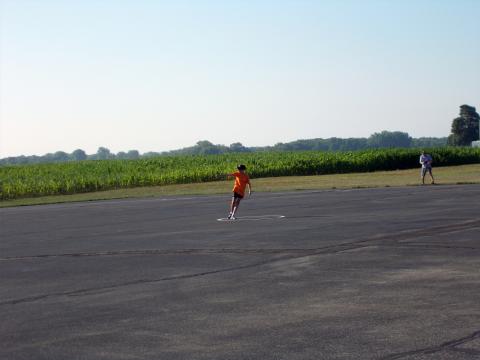 By Matt Neumann
Saturday is top five day. The day we've waited for all week because today we crown the 2020 National Champion. Not only in Open class, but in Junior and Senior as well.
The morning started with sun and warmer temperature than we've experience all week. The sunny skies would give way to partly cloudy as the morning went on. We had a light breeze to start out with, but it got increasingly stronger as the day progressed. Overall, it was not a bad start for Stunt, but got a little bit more interesting as the morning moved on.
In the end it became a nail biter resulting in Orestes Hernandez beating out Paul Walker by 1.5 points! That is close folks! This is with more than 1,150 points total. So, it was with almost the narrowest of margins with which Orestes won. Third went to Derek Barry, fourth went to Todd Lee, and fifth went to Kenny Stevens. Congratulations to all!
We also had a couple of other competitions taking place Saturday. This was to crown our Junior and Senior champions. These are age classes. Junior is 13 years and younger, while Senior (although sounding old) is 14 to 18 years. We had three juniors and two seniors entered. However, just before the competition started, Luca Alimov crashed his airplane during a practice flight. I felt for Luca because I know he was looking forward to competing. That left two in Junior and two in Senior to compete for their respective crowns.
In Junior, we had Samuel Londke and Gabriel Alimov. When the dust settled, Gabriel Alimov won the Junior Precision Aerobatic crown for 2020. Congratulations Gabriel. While I know he wanted to compete against his brother, I also know these two will be competing against each other for years to come. So, while today may not have turned out like they wanted, there will be many more to come. Hang in there Luca.
On the Senior side, we had Steven Daly and Ben Mills competing. Ben has come a long way since starting out, and coming on stronger every year, but that was not enough to beat Steven Daly who became the Senior Champion for 2020. Congratulations Steven for a job well done!
On a different note, this Nats to me will be remembered as the "Senior Moment" Nats. I have seen more fliers forget things this year than in any other year. I already mentioned one forgetting to do his second vertical eight and another doing four loops instead of three, not just once, but twice!
Well this time, Paul Walker had a senior moment when he took off his safety thong around his wrist before his helper could restrain his airplane and disarm it. Paul's plane is an electric. And the rules state that if the plane is armed, it must be restrained by a pit person or the safety thong must be secured around his wrist. He is like me and flies alone most of the time. We can get in the habit of, once the flight is done, taking the thong off and going to retrieve the plane. You have no choice when you are alone.
However, here at the AMA site, we have helpers and one must disarm first before removing the safety thong. The premature removal of his safety thong resulted in a zero score. Now on top five day, we take the best two out of three flights. This one became his throw away. And, as it turned out, if the flight would have counted it would have been his worst anyway.  At least this is a consolation to him knowing it did not make any difference in the outcome. My hat's off to him again rising to the occasion, not letting this get him down, and using his next two flights to come within a whisker of still winning.  However, I still just can't think of any other Nats where we could not keep up with pachyderm awards.
At the end of Open, Junior, and Senior competition, there is a flyoff between the three champions to determine who will take home the Walker Cup for the year. Normally, three flights each between the contestants are flown. However, since the winds were coming up and Orestes was so far out in front after the first round, we decided to fly one round and call it quits—wisely, I think. It was starting to get rather hairy out with the wind. So, Orestes won the Walker Cup for 2020. Congratulations to him again. I think this was his third Walker Cup win.
Now that this exciting week is done, I have to admit there is a bit of sadness as well. That is because I have to say goodbye to my extended family; most of whom I won't see again for at least a year. Yes, we may keep in touch on social media, but it is just not the same as saying hi and talking in person. CL Precision Aerobatics a close-knit group. We are in many ways family. Not in the sense of father and son or husband and wife, but as brothers and sisters. And we will miss our family throughout the year. But with that, I know that next year there is a good chance I will be able to see most, if not all, of them again. I can't wait.