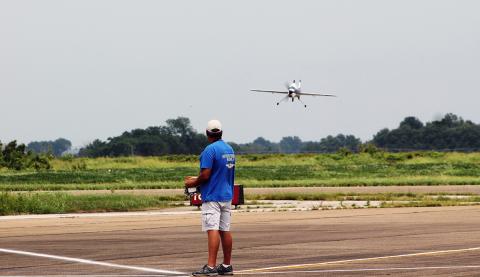 By Monte Richard (mrichard@compassengineering.com)
Day 3 of the Nats, our second day of flying competition, went well. We shut down flying at 8:30 a.m. to allow a Learjet to come in and land. The show was worth the slight delay.
The sky was overcast, which kept temperatures cool. All sites started flying and we completed FAI about 11 a.m. Advanced is the longer class and didn't finish its second round until roughly 1 p.m., just in time for the start of Intermediate and Masters.
The sun came out and the temperature climbed, reaching about 97°. A warm, southern breeze made it bearable. We shut down approximately 3 p.m. to let a Boeing 737 depart, and again enjoyed the show.
Competition picked right back up with planes in the air. The competition is getting exciting in some classes. You can check out the scores on Patternscoring.com
After the flying Thursday, we hosted a hospitality tent with Zwolle hot tamales, homemade chili, chips and dips, and trays of sweets. Mark Hunt with Insight RC presented a foam-cutting seminar on cutting odd-shaped parts, canopies, turtledecks, etc., with actual demonstrations. Attendees could take a turn at cutting foam with a hot wire bow cutter. It was really well presented and received.