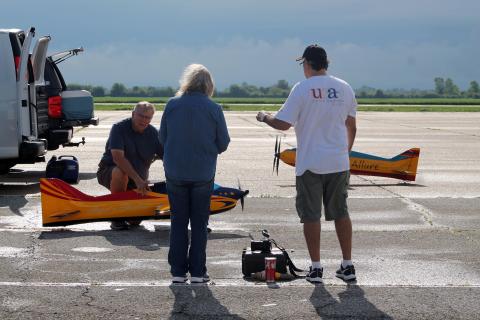 By Monte Richard (mrichard@compassengineering.com)
Hurricane Barry had its effects on the RC Aerobatics Nats, taking place in Blytheville, Arkansas. But despite the rain, we managed to process all of the planes on Tuesday. The airport authority at the Arkansas Aeroplex sponsored a barbecue dinner with fried catfish, barbecue brisket all the fixings, and banana pudding for dessert. Quite a treat.
Wednesday dawned with low ceilings and fog. One plane was lost when one of our pilots tried to practice and disappeared into the clouds at roughly 200 feet. The ceilings lifted approximately 11 a.m. and we completed the first two rounds of competition. The hospitality theme was Cajun night. We served boudin sausages, finger sandwiches, chips and dip, and played Cajun Zydeco music.
Today should be a good day because no rain—only hot sunny days—are in the forecast for the rest of the week.