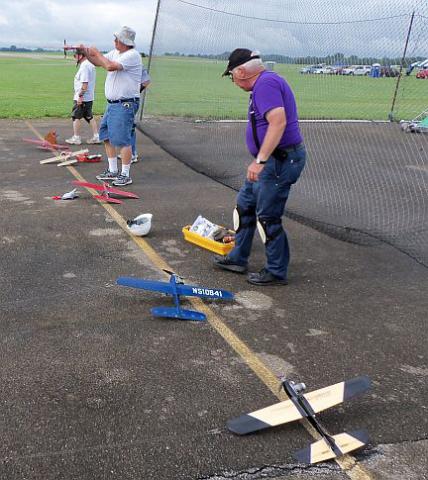 By Tim Stone (stone-tim@sbcglobal.net)
Two events are being flown today, Super Slow Rat and Texas quickie Rat. Racing conditions were very good with moderate winds & temperatures.
Texas Quickie Rat was run first. All entrants used pretty standard planes & motors.
Races were run 3 up with close times. With all equipment being closely matched in speed, it makes for some intense flying. The center of the circle can be a rugged place to be! Chuck (Upchuck!) Barnes ran into a stray elbow which caused him to loose sight of his plane for about 3 laps before suffering a bad fall; luckily he was ok. Stone/Oge and Oge//Stone made the finals forcing a 'Rent-a-pilot situation.. Chuck Barnes & Mike Greb graciously stepped up to make it a 3-up race as it should be. Results are posted.
Super Slow Rat was sponsored this year by Pat King of PDK LLC, who kits many outstanding designs. Super slow Rat rules call for plain bearing .25 size stock, unmodified engines. The motor of choice has become the Brodak .25 which is currently manufactured, and of outstanding quality. These motors perform very well right out of the box. Bill Bischoff debuted his second generation "Mockingbird" design with new super secret airfoil. This is kitted by Pat King. David Betz entered an original, fabric covered design which did well.
Eight teams entered this year. All races were flown 3 up and well run, fun races. 2- 100 lap back to back races were flown with no final. Bill Bischoff /Mike Greb won with an excellent time of 5:24.