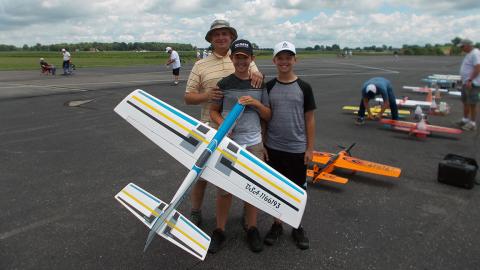 By Matt Neumann (mrstuka@cinergymetro.net)
Wednesday morning greeted the contestants with clouds and light wind. It had rained fairly hard at 4 to 5 in the morning, so the area was wet, but at least the sky was not falling at the time that the contestants got to the field.
The L pad that we fly off of is a hard asphalt surface surrounded by grass. Through about midmorning, the grass was very wet and had some puddles. Walking through it meant wet shoes and socks. I hate wet socks, along with a lot of other people, so walking on the asphalt was certainly preferable to wet socks. Flying is not allowed until 7 a.m., while actual official flights do not start until 8. So, if you want to get a practice flight in, you have to get to the field early.
Wednesday marked the first day of official flights for CLPA (Control Line Precision Aerobatics). The Open and Advanced groups were split into four separate groups. Each group then flew two flights in front of two sets of judges—one set of judges Wednesday and a different set of judges Thursday. The best flight from each day will then be added together to see who makes the cut to fly on Friday.
The top five from each group in the Open skill class and the top four from the Advanced class will move on to Friday's flying. These two days, you at least have a flight that you can mess up and recover from. Friday is a different story. More on that day later.
Wednesday started out with complete cloud cover. We could tell that there were rain showers in the area, but we were fortunate that those did not come over us. As the day went on, the clouds broke up but fortunately, the wind did not pick up. From what I can tell, most people were at least pleased with the conditions. Yes, it could have been a little cooler or stayed cloudy all day long to make it easier to fly, but it sure beats some of the weather we had the previous couple of days. So, I am one who won't complain … much.
Some of the notable things that happened was we had a flyby not once, but twice, by FIFI. This is the Confederate Air Force's B-29. It has been at the local airport for a couple of days and this is the first time we actually got to see her fly. She did a low enough pass each time that we could certainly tell it was FIFI and get a good look at her as she passed overhead. I felt sorry for the pilots who were flying and the judges. They had to pay attention to their flights and could not watch as she flew overhead. I am sure someone will have some videos of it and post them somewhere on social media so they can catch up on what happened.
Other than a few nervous jitters and a small problem with a plug not connecting right in an electric plane, nobody really had any issues that I am aware of. I know one flier who is at his first Nats accidentally did too many inside loops. This caused him to lose 25 pattern points for not doing the pattern the correct way. We can chalk that up to nerves.
Another incident happened when Paul Walker went up for his first official flight. Just as he made the first hard turn into the first maneuver, his motor sputtered and then quit. This is highly unusual for an electric-powered model. Fortunately, he had enough momentum to carry him until he could get the plane level and land safely. The way things went down, the rules stated that he did not officially start the pattern yet, so he got to do an attempt instead of the flight counting as an official. You get three attempts to fly two official flights. So, he used up his "free" attempt. He quickly diagnosed the problem as a loose connection and fixed it and was then able to make another attempt in short order, and this time he completed the pattern.
Scoring was the only real hiccup of the day—as in the slowness of scores being posted. In this case, it probably is a good problem to have. In the past few years, we have gotten barely enough judges to judge all four circles. This year we have 14, which is almost double what we had the past couple of years. This is a good problem to have. Unfortunately, this means that the fliers will have to wait to see what their scores are. This will determine who is on the bubble for Thursday, who is sitting pretty, and who does not have much of a chance.
So, after Wednesday, the rubber really starts to hit the road. For those who are well in, it is an easy day. Just put in a normal flight and relax until Friday. For those who don't have a chance, they are there to fly and have fun talking with the rest of the pilots.
Now for the ones on the bubble, it can be very nerve-wracking. Because you are nervous before you fly and then once you do fly, all you can do is wait. And wait.
No pressure.
Thursday's flights are always some of the more interesting to watch. I can't wait to see what the day will bring.