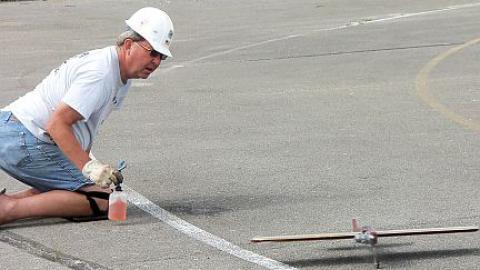 By Tim Stone (stone-tim@sbcglobal.net)
There were two events being run Tuesday, Slow Rat and Goodyear. Slow Rat has been run with the maximum .25 engine size for a few years now. The powerful .36 engines previously used were getting hard to find and heavy, which made for a hard-pulling airplane.
The engine size reduction has not really helped much, and suitable engines are becoming scarcer. The powerful .25 RC car conversion motors in practice are also heavy and just about as fast as many .36s. As a result, entries have suffered. Two GO .25s, an XTM .25, and one Thunder Tiger .25 were used by racers.
Five teams entered this year, including newcomers Mick and Mike Warning. By race time, the wind had picked up and was gusting to about 25 mph which, surprisingly, did not affect anyone. Bob Oge had an outstanding heat run. He and Mike Greb went to the finals. Mike had some pitting troubles, and Bob Oge coasted to an easy win.
Goodyear has also suffered in entries due the lack of engines in the .15 size. Nelsons and Rossis have not been manufactured for quite a number of years and are getting scarce. This year, there were just four entries. One Nelson .15, a Rossi MK 2 and a Rossi MK 3, and an O.S. .15 were seen.
By race time, the wind had picked up even more and the tail-end of tropical storm Barry was looming. Everyone except Mike Greb failed to post a heat time. Bob Oge's exceptionally fast O.S. .15 RX blew off about 1 inch of the carbon-fiber propeller tip! No final was run because the event was rained out. Finishers were first, Greb/Bischoff; second, Barnes/Barnes; and third, Betz/Stone.