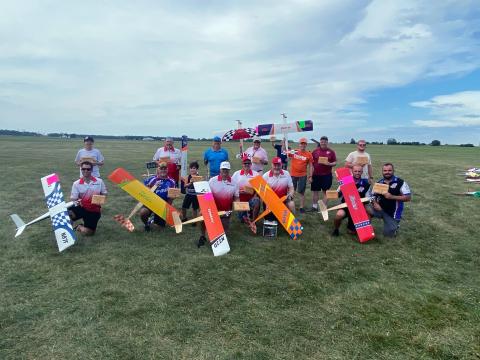 By Gary Freeman
Wednesday we finished up two rounds of qualifying. There were a lot of changes in the top 24 with many tight races. Mike Condon chose the two wild cards as the racers who finished 23 and 24.
The finals, as always, are some very intense heats of racing. Gino DelPonte was one of the favorites to win, but unfortunately, nosed over slightly in the first round, and then in round two, he kissed Pylon 2.
There were a few other top contenders who got taken out of the top spots early … Dan Kane, and Dennis Cranfill, just to mention a few. AJ Hemken was clean going into the fourth round but had a midair with Tom Scott.
At the end of the day, it was Jason Duda on top, one point down, with Mark Parker in second three down. The flyoff for third and fourth ended with Rich Beers winning over Matt Fehling. The flyoffs for fifth and sixth had AJ Hemken take the win with Jason Oliver right behind.