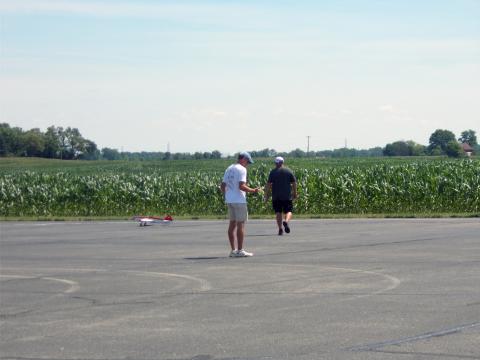 By Matt Neumann
Wednesday greeted the contestants with a spectacular sunrise, a little fog, cool temps, and no wind. For those of us who got there early, we had an interesting time getting in a practice flight. No wind for us is very dangerous. We fly in such a small area that we can fly through our own wake causing, shall I say, sudden and unexpected coarse changes with our aircraft. To combat this, we back up while flying which adds more challenge to the flight. Think patting your head, rubbing your stomach, and trying to walk backwards all at the same time. Fortunately, we did not have any accidents during this time.
Once flights began at 8 a.m. sharp, it was the official start of the first day of qualifying. Wednesday and Thursday, the four groups in Open vie for the top five in each of their respective groups. The top five from each of the four groups will then fly on Friday for top 20.  Top 20 will then cut the number of contestants down to five who will fly on Saturday to find out who will be crowned the 2020 Nats Open Champion.
In the Advanced class, they are also working towards making their own cut to fly on Friday. However, instead of a select few moving on to Saturday, the contestant that wins on Friday will be crowned the Nats Advanced champion.
So, Wednesday, the strategy for the most part is to just get into a position that will enable you to sort of coast tomorrow if needed. If you are well in for instance, all you would have to do it just put in a decent flight tomorrow and you can sit back and relax … until Friday that is. This is basically the day you find out who has and who does not have game.
As the day went on, the temps went up and so did the wind. During the middle of the first round, it was what we would call "stunt heaven." Which is a slight breeze away from the sun. The breeze is really nice because it blows the turbulence away from the airplane, so we do not go back through it. Yet, the wind is not really strong enough to bother us trying to do our maneuvers. This was during the middle of the first round.
The second round however was a different matter. The winds kept picking up. The wind indicators, instead of drooping straight down like before, were sticking straight out. Things were getting a little dicey there at the end. Fortunately, thanks to everyone, we got through the flight order by lunchtime. This enabled everyone to get out of the heat and wind.
Fliers were starting to struggle with the wind towards the middle of the second round. Some even passed figuring they were well in and did not need to try and improve their score. Or figured they just could not improve with that type of wind.
I did decide to fly my second flight but had a slight mishap on landing. I am supposed to come in on a smooth approach and then land without bouncing. As it turned out, I gave the judges a choice as to which landing they wanted to score … quite a few choices actually.
The plane got caught upwind. This caused it to skid sideways catching the inboard landing gear strut and bending it. I am happy to report that there was minimal damage. I basically just had to bend my LH gear strut back, which was not big deal. The only thing hurt was a bent gear and my pride. But it goes to show that you should never let your guard down. Mother nature can bite you in a hurry.
Thursday is a different day—different conditions, which always makes things interesting. This is the Midwest … don't like the weather, it will change. Hopefully for the better. I really do not want to fly in that wind again!