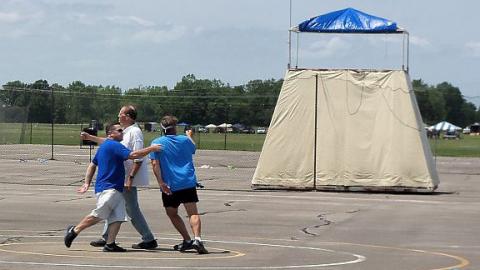 By Tim Stone (stone-tim@sbcglobal.net)
Welcome to the 2019 CL Racing Nationals! I'm happy to be back to do the reporting after a few years off. Thanks to Melvin Schuette for his Nats reporting, as well as Brenda Schuette and their business, MBS Model Supply, that continues to be an invaluable source for specialty CL supplies.
This year's racing schedule follows that of the last few Nationals. It's reduced in time and has consolidated events to reflect the declining interest in CL Racing.
Racing events on Monday were the international class of Team Racing, F2C, and AMA Mouse Racing. F2C has had a few rule changes made this year by the international rules committee, most notably the addition of an exhaust cover. Dick Lambert and Tom Fluker came well prepared with outstanding fabrication on their entry. Early reports seem to indicate that this has slowed down the models a bit, but little effect was seen on this year's entries.
Five teams made for a fair turnout. Three rounds were flown. The 3-up round one ended in a midair line entanglement and crash between Wallick/Columbo and Wilk/Fisher teams that destroyed the Wilk/Fisher team's entry. The remaining races were exciting, as F2C usually remains! Final results pictured here.
Mouse 1 had a very healthy turnout of 11 teams, including first-time Nats Junior entry Sam Londke. Also new to the racing circles were brothers Mick and Mark Warning, with assistant George Renyolds. Races were flown mostly 3-up with two final races run. Former racer Dave Decker also stepped in to pilot David Betz's entry. All races were fairly clean and well done.