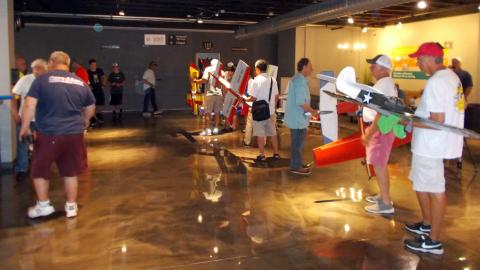 By Matt Neumann (mrstuka@cinergymetro.net)
Monday was the official start of Control Line Precision Aerobatics. It was officially about appearance point judging, and to have the pilots' meeting. Unofficially, it was to meet and greet old acquaintances and to make new friends. To many, the latter is more important than the primary reason.
In my case, I got to finally see an old friend of mine whom I have not seen in eight or so years. I also got to see some other friends who I only get to see once or twice a year. So, this time had a special meaning to many of us because we consider our airplane friends an extended family.
This year we had an upswing from last year in attendance. We will fly two skill classes later in the week. The Advanced class has 30 contestants, while the Open class has 41. So that is 71 contestants overall. Not a bad turnout.
Appearance point judging is when a set of judges sets a point value of 0 to 20 to an airplane. This point value is then added to each pilot's flight score. These points can be quite valuable later on when scores get added together. It is not uncommon for scores to be only a point or two difference. This can make or break a pilot's final position.
After the appearance score is determined, the planes are then arranged in rows determined by their score. The highest-scoring planes are put in the front row.
This year, we had seven planes in the front row—each getting 19 points. The next row was 18 points, with the following row 17 points, and so forth. It is a high honor to have your airplane put in the front row. So out of the 71 contestants this year, only seven can say they are front-row planes.
Because the pilots get kicked out of the gymnasium during the appearance point judging so that they don't disturb the judges, it is an opportune time to have the pilots' meeting. This is when the event director has a meeting with all of the pilots to discuss changes, and if anyone has any questions, they can ask them at that time. It is also used as a roll call to make sure everyone is here who signed up and to make sure no one was missed.
By the end of the meeting, everyone knew what position they would fly and on what circle they will fly later on in the week. This is very helpful.
My hat's off to Mark Weiss, this year's event director, in making the meeting fun with his corny jokes and delivery in general. He is quick, funny, and very entertaining. Way to go Mark.
After the meeting, everyone was released from the meeting and allowed back into the gymnasium to see what their appearance points were. The pilots then got to choose a Concourse winner. That is a pilot's choice as to what is the best-looking plane. Each pilot got one vote.
This year's winner is Jim Aron. He has a wonderful orange and black airplane that has some very intricate designs. In terms of the airplane's artwork, it is something you almost have to see to believe. I have included a picture of him, his aircraft, and the trophy. This will give you an idea as to the intricacies of his paint design.
Also noteworthy is 13-year-old Luca Alimov. He is flying a Profile plane that has a wonderful finish on it. It is a wonder to behold. He has less than a dozen flights on it as of this writing. David Fitzgerald, a multiple-time Nats winner, is taking great interest in this kid and wants to help him trim his airplane. This is what sportsmanship is all about: Helping the next generation. By doing this, we can ensure that the event will continue in the future.
A final note is Paul Walker's plane. Two weeks ago, he had a self-proclaimed senior moment and crashed his airplane. Really bad. As in lots of pieces bad. He managed to not only get it back together but get 18 points in the process. This is not a small feat. A phrase from the movie Galaxy Quest comes to mind. "Never give up! Never surrender!" This certainly applies to Paul in being able to get his severely damaged plane back together, and not only that, but together in such a way that you can't tell it was damaged.
Tuesday we will have two unofficial events. One is Old-Time Stunt while the other is Classic Stunt. This is when the competitors build replicas of planes built before 1970 and 1952 and compete with them. But more on this Wednesday.