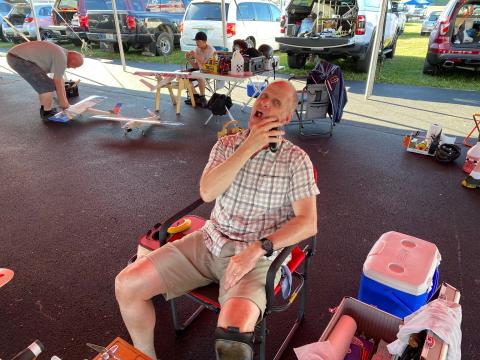 By Gary Freeman
I would like to start off Tuesday's coverage saying thank you to Dennis Cranfill, his parents, and Mark Parker for an amazing evening fish fry. One of the best ever.
Today we started 426. This is a Q500 class of racer where everyone runs the same engine, which is a Sport Jett .40. These engines are all very close in performance and very easy to run.
Husband and wife team of Bruce and Joanne Coffey made the long trip from California and are looking fast. It is really great watching them work together—they make a great team.
Today had lots of tight racing and also a bit of carnage.
Gino DelPonte and AJ Hemken are kicking some butt as usual. Mark Parker was able to put 10 solid laps down and take the win against AJ during a tight heat.
The Doe's had the biggest support group of the contest. Love seeing family and friends coming out to support.
We completed 6 of the 8 qualifying rounds today and will do 2 more tomorrow to decide the 24 pilots going into the finals tomorrow afternoon. Based on the times from today, this is going to be a finals to watch.