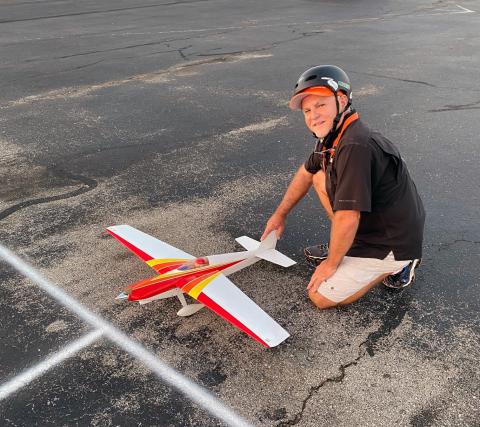 By Gary Freeman
Monday was the electric EF1 class. There were 29 entries and most everyone had fast airplanes and great thumbs. This class is "box stock," meaning all items are available to anyone and cannot be modified in any way. This makes the class very fun and easy for everyone. Ray Brown and Lloyd Burnham were the starters for this event; thank you both for a great job. There were a lot of great heats and tight racing. It was good to see some of the newer guys kicking some butt. You can tell they have been practicing.
It was very special to see the father and daughter team of Tom and Annabelle Doe. She is having a great time and doing a great job.
There was great racing today and very tight heats. There were a few casualties too. One memorable one was Jason Duda's beautiful Shark getting in a midair after the race was over.
Monday's Results:
Jim Nikodem
Dan Kane
Larry Lisowski
Jim Allen
Jack Kane
Fast Time: Dan Kane (1:08:61)
Best of Show: Jack Kane
Many of the 426 and 422 are started showing up Monday. Practice was intense, and this Nats will be a challenge to win with some really fast pilots here.