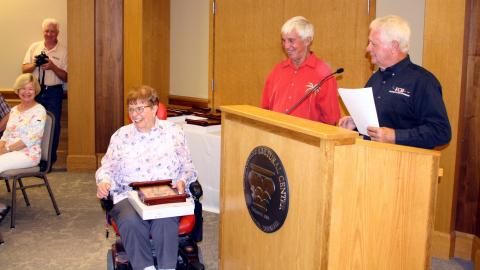 By Stan Alexander (onawing4602@att.net)
Wow! What a perfect day! Yes, there was a little wind from the southwest, but everyone had a great time flying the first two rounds of competition Saturday in Designer Scale, Expert, Open class, Sportsman, and Open Fun Scale and Novice Fun Scale classes.
One member, John Borton, with his scratch-built electric Pietenpol Air Camper did have an accident. He accidentally bumped the throttle on the radio with his hand. It was live and it cut three fingers, both legs, and other areas before he could get away from the thing.  Always, but always, when you work on electric-powered models, especially large electric-powered aircraft, remove the propeller before working on them or powering them up. A quick trip to the hospital by RC Event Director Carl Handley and some first aid by Joe Vermillion got things taken care of.  I've had the same exact thing happen—not fun at all!
Hal Parenti was the "youngest" competitor at the Nats this year entered in Designer Scale with his Ryan Fireball. Hal has a new model of this aircraft waiting for test flights and next year, we hope to see Hal back with it in competition. If you've ever researched a Fireball, they were a post-World War II fighter powered by both a turbine and a piston engine. This was done due to turbines not being very powerful at the time. Hal is attending with Gary, his son, and Hal is now 93 years young. He has been a Nats winner 18 times.
We had a visit from Hazel Sig out at the field and Hal Parenti and her got together and talked about good times at the Nats, Hazel's involvement in AMA and aeromodeling in general and, of course, SIG Manufacturing. Great to see her always.
The Saturday evening banquet was held at the Minnetrista Cultural Center here in Muncie, Indiana. Control Line Scale Event Director Allen Goff set all of this up and it is a great venue. The meal was the best banquet I've attended anywhere in Muncie.
National Association of Scale Aeromodelers (NASA) inducted 11 members into the RC Scale Hall of Fame Saturday night, and unfortunately, many are gone from us already. The inductees include Bob Underwood, NASA's founder and first president, Hal Parenti, Dave Platt, Frank Tiano, and of course Mrs. Hazel Sig, who was inducted into both the CL and RC hall of fames, the late Bob Wischer, Dolly Wischer, George Buso, Steve Sauger, Skip Mast, and Claude McCullough.
More on the competition tomorrow with the final results in all classes as well as some good photos in the sunny weather we are having here in Muncie!