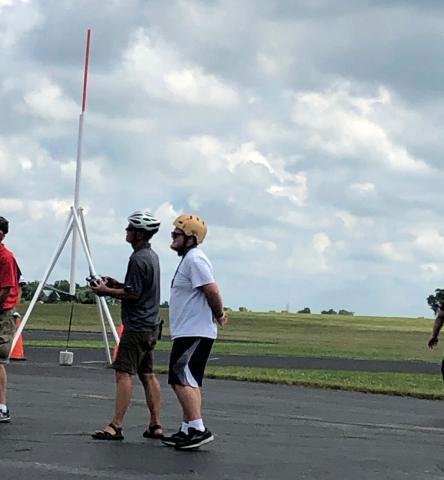 By Gary Freeman
Day one of the RC Pylon Nats has come and gone. With everything going on in the world today, I think everyone here is looking forward to a safe week with friends and family doing what they love. Thank you, AMA, for allowing us the opportunity.
Today's event was 424. It is the slower of the three nitro classes we run and a steppingstone into racing for new blood, along with an expert class for veteran racers that allows them to compete—this provides for some great racing. There were many heats that included a mixture of new faces and seasoned racers, and it was great to see how close the races ended up. Some had two seconds between first and fourth place.
There are a few father-son teams out here today, which is always great to see. Tom Doe and his father, Greg, Jack Kane and his dad, the famous Dan Kane, along with Leo and Ola Nordell. It was very nice to see Doug Scherrer give Annabelle Doe (Tom's daughter) a ready-to-fly Proud Bird. She hopes to race next year!  This is just the type of thing that needs to happen to get some new racers involved.
Expert class results:
Dean Stone
Larry Lisoski
Clint Seyer
August Haupt
Jack Kane
Fast Time: Mike Helsel (1:14:00)
Standard class results:
August Haupt (Fast Time 1:23:64)
Tim Spark
Matt Fornefeld
Greg Doe
Best Junior: Leo Nordell
Best Senior: Daniel Troup
Monday will be the EF-1 class, which is an electric event that resembles the Formula 1 racers of the past.