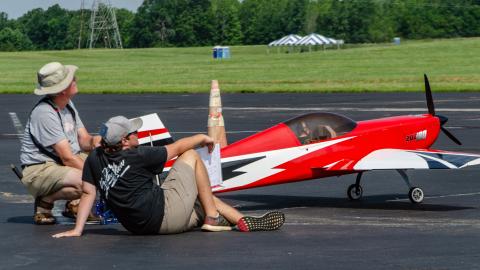 By Rich Whitlow (rwhitlow@gmail.com)
We had another beautiful day in Muncie, Indiana at the IMAC Nats! The morning started off cool and the day warmed up nicely. The sky was a pretty blue and everyone was able to fly just as high as they liked, with no threat of climbing into the clouds.
We were able to complete the Unknown Round and two Knowns, before flying stopped for the afternoon.
The races remain close and there is a final round to fly tomorrow with two Unknowns and two Knowns to fly.
In the evening we had the annual IMAC Nats Banquet, with a beach theme! The food was Italian, and no one left hungry!
The highlight of the evening was the presentation of the Diamond Award (President's Award). The award went to Adi Kochav this year and it was well deserved. Adi's unrelenting efforts have spurred on a terrific growth in the International Region. Congratulations Adi.
Also, the DeeForce raffle prizes were drawn and we had several very happy people with new servos and a new radio!
We look forward to finishing up tomorrow and awarding our winners for their efforts.
See current scores here.