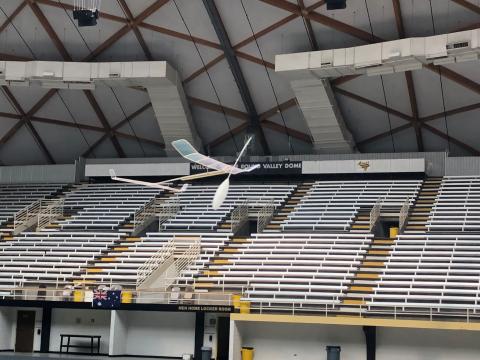 By Don DeLoach
Day Four at Round Valley Dome … more terrific flying by the best Indoor fliers in the US and beyond.
Mass launches were the major highlight in the afternoon on Friday, May 27. Winners were the following: World War II, David Aronstein with Fiat G.55; WW II No-Cal, Mike Fedor with a Spitfire; and P-18, John McGrath. The latter featured 21 contestants in an epic single round. Well over half the field was youth including the Albuquerque homeschool team and a Civil Air Patrol unit from Phoenix.
Big news of the day in the glider events is that Tim Batiuk found a strong piece of lift and paired it with a perfect launch to post a monster HLG flight of 1:17.9. This puts him about 8 seconds ahead of second place going into the final day of competition.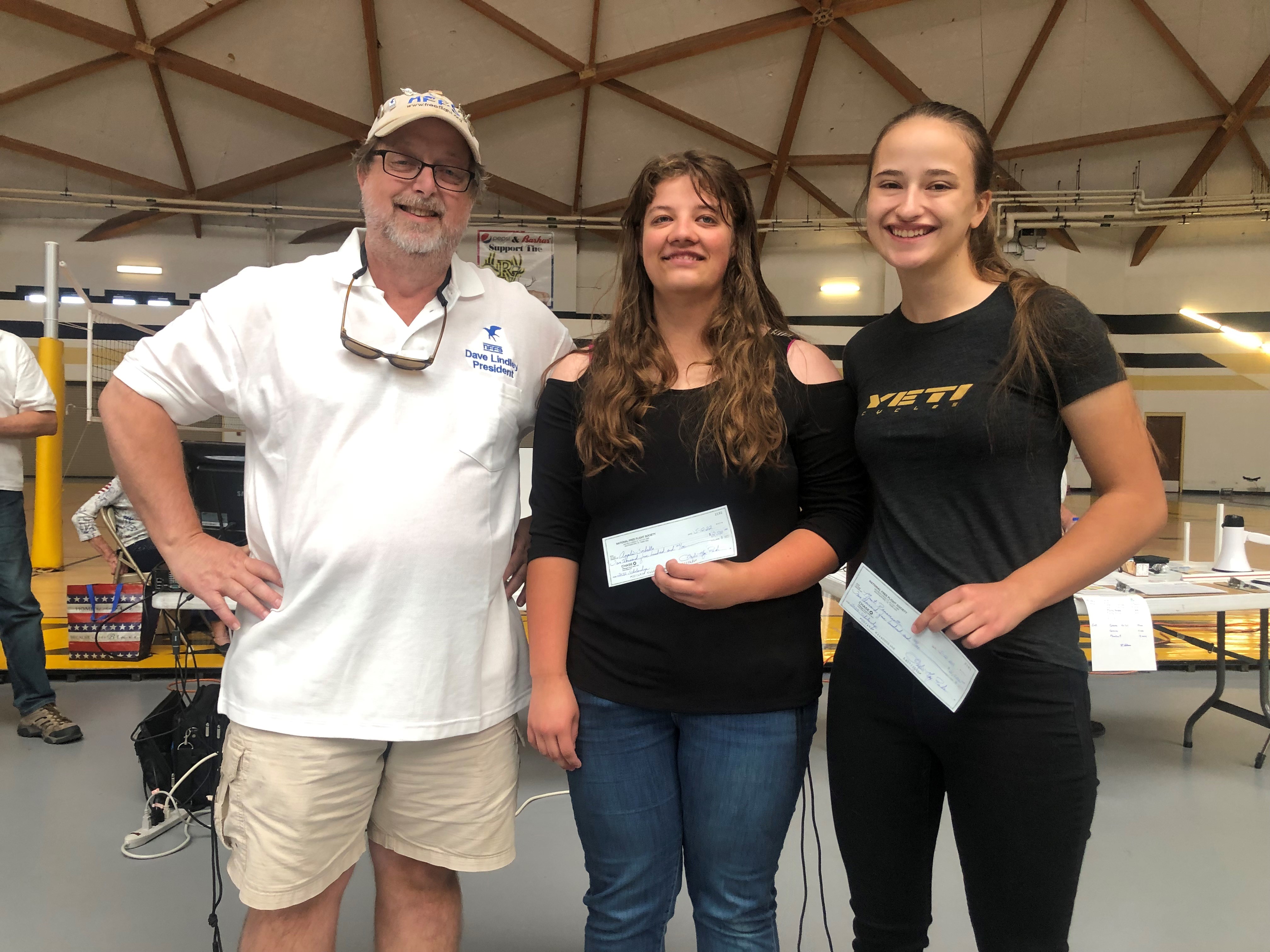 In Unlimited Catapult, Stan Buddenbohm still has a comfortable lead. In Standard Catapult, Stan is also leading but just barely. Tim Batiuk is an agonizing 0.1 second behind.
Competition is extremely tight in FAC Peanut Scale and FAC Jet Cat with one day to go. In Peanut, George's SE-5 is doing about 90 seconds with higher bonus points than Dave Aronstein's Boeing, which has a best time of about 15 seconds higher. In Jet Cat both Stan Buddenbohm and Jonathan Nunez have their models doing around 50 seconds consistently. Amazing performance for these little marvels.
Four more national records fell on Friday! Guha Ekambaran did 14:57 in F1D Junior. Caleb Finn did 9-plus minutes in F1L Junior, plus he upped his F1R record to 10:37. And lest we forget about little 3-year-old Paul Finn who did a record flight of 3:55 In Electric Junior.
Mass launches for Saturday are: Greve/Thompson, Flying Horde, Greve/Thompson No-Cal and Phantom Flash.
Stay tuned here for the final report following Saturday's flying and prizegiving. It's been an awesome week at the Round Valley Dome in Eagar, Arizona, and we're excited for one more day of fun.
--Don DeLoach
As of Friday evening, with 1 day of flying to go, the current major event leaders are:
A-6                              Hamish Christie          9:26
ROG Stick                  Josh Finn                     15:38
Easy B                         Karen Khanagov         16:49
F1D                             Brett Sanborn              38:53
F1N HLG                    Tim Batiuk                  3:30.7
Limited Pennyplane    Josh Finn                     11:06
NFFS Towline             Don DeLoach             4:34.6
Hand Launched Stick Ross Clements             30:55
Intermediate Stick       Josh Finn                     20:34
Ornithopter                 Josh Finn                     4:13
Ministick                     Karen Khanagov         9:45
P-18                             Brett Sanborn              3:31
Pennyplane                  Josiah Rose                 9:55
Unlimited Catapult     Stan Buddenbohm      2:33.7
HLG                            Tim Batiuk                  2:29.2
Manhattan Cabin        David Aronstein          7:58
ROG Cabin                 Ross Clements             21:21
F1D                             Brett Sanborn              38:53  
Standard Catapult       Stan Buddenbohm      2:12.5             
F1L                             Mike Fedor                 22:06
F1R 35cm                   Josh Finn                     33:18
F1M                            Chuck Andraka           23:39
See more photos at https://www.flickr.com/photos/modelaircraft/.