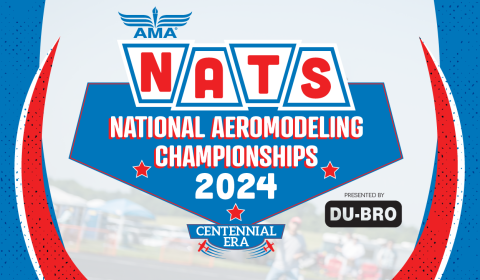 The dates for the 2024 AMA Outdoor National Aeromodeling Championships (commonly referred to as the Nats) have been approved, as have dates for a few other key events at the AMA International Aeromodeling Center (IAC), including the Control Line (CL) World Championships. 
It's going to be a busy and exciting summer at the IAC in Muncie, Indiana. We hope you can join us, for camping and other information visit the IAC information page.
Here's a list of events and dates:
RC Combat:  July 7-9
RC Pylon Racing:  July 7-12
RC/CL Scale:  July 11-14
RC Scale Aerobatics:  July 16-19
RC Soaring:  July 20-28
Outdoor Fee Flight:  July 22-26
RC Aerobatics (Pattern):  July 29-August 2
RC Helicopter:  August 4-7
Control Line (All disciplines except CL Scale):  August 4-9
IRCHA Jamboree:  August 7-11
F2ACD Cup (CL):  August 8-9
F2 Control Line World Championships:  August 11-17
Online registration will begin on February 1, 2024. If you have questions about participating in the 2024 AMA Nats, please email nats@modelaircraft.org.
Planning on camping? RESERVE YOUR CAMP SITE!
HOTELS
Mention Academy of Model Aeronautics to get the AMA room rate.
Courtyard by Marriott  765-287-8550
Hampton Inn and Suites 765-288-8500
Holiday Inn Express 765-289-4678
International Aeromodeling Center  |  Muncie, Indiana
5161 E Memorial Dr, Muncie, IN, 47302-9050 ( 40.1785, -85.3265 ) Get Directions