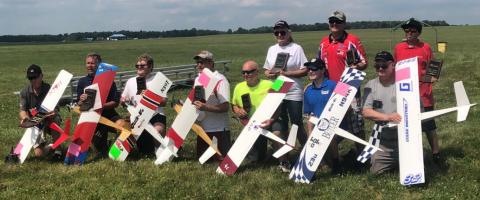 By Santiago Panzardi and Dan Kane
Tons of work goes on behind the scenes and we can never say thank you enough. Mike Condon once again was the CD for all of the Pylon events. Mike has now been the CD for the Nats 14 times. This is crazy to think about. When Mike makes it 15 next year, I think we need to celebrate with a bang, not just a small porta john explosion, but something epic. Start planning. Mike volunteers his time all year in planning for the week. He oversees the site and all of the workers, which is a thankless job. He does this in distinguished fashion without hesitation.
Tom Melshimer took on the task of making sure the judging equipment was up and running every morning and disassembled and charged for the next day. This is not an easy task, especially with the rain that blasted us at times this year. Chuck Andraka and his wife, Janet, worked late into the night keeping the Matrix and Scores in check. Again, this type of volunteer work goes unnoticed and underappreciated. All of them did such an outstanding job and we don't know how much work is actually done and how much time it takes to accomplish a seamless event.
Another key part to the puzzle was Trey Witte. Trey is the president of the NMPRA and he took a step back this year and did not compete. He spent his days in the hot sun on the flightline and performed the duties of starter for all of our events. This is another key position, and Trey's experience and enthusiasm was evident during every heat. We can't do what we do without these guys and gals. It is an incredible amount of time and energy spent volunteering. Hats off to all of you. Chuck also updated the following website with Matrix info and race results: www.rcpylonracing.com/
Last but not least is the crew that handled the processing of models. All of the models were safety inspected, as well as checked to be in compliance with the rules governing each event. Mike Helsel and Terry Frazer again took the lead for inspection and were available on-site during the day to check everyone's models.
Craig Korsen and Roy Andrassy also spent time checking airplanes. Again, this is another task that takes away from one's own time to prepare for the events they plan to fly in. Heck, maybe the trick is to volunteer to run processing. Both Terry and Mike became National champs this year. Mike won AMA 424 and EF-1, while Terry took top honors in Q-40. Well done, guys.
The Nats cannot happen without the support of some very special people. Randy Ritch from Ritch's Brew donates all the fuel for the Pylon events as well as the Control Line events. The Ritch family has always been part of model aviation.
Recently, Rylan Ritch won the Junior World Champion title in F2D (CL Combat)—one of the highlights for the Ritch family. Randy and Suzane couldn't be prouder of both of their kids.
Unfortunately, we lost an icon of the Pylon community late last year. Dickie Ritch, one of the founding members of the "FUGAWI" Indian tribe, passed away. This void is felt by the entire Ritch family. I know Dickie is smiling down on all of you. Thank you for everything that you do for model aviation.
Finally, we need to give a huge shoutout to engine manufacturers, Dub Jett and Mike Langlois. They provide financial support to provide the shelter (the big tent) for the competitors. Having this big tent on the blacktop has been a huge help to combat the mushy ground due to the rain. The last couple of years, Dub and Mike went the extra mile to make sure we all has shade and the right tools to be competitive.
AMA 424 is the entry-level Q-500 class. The rules only allow non-composite wing aircraft. The notion that foam wing airplanes are not competitive has been blown away in recent years. Jim Allen has won and set fast time in the Super Sport class of Q-500 using his own design and Hobbico ARF, the Quik-V6. Unfortunately, this airplane is no longer in production, leaving a huge void in the airplane market for AMA 424. This, coupled with the loss of another viable engine for the class, will prove to be challenging. Stay tuned for updates regarding the future of AMA 424.
We had some great races and fun was had by all. Hats off to all of the up-and-coming pilots doing their thing. Larry Lisowski continues to impress everyone. Watch out, Larry is coming.
Watching Bob Petrinec get back into the groove was truly inspiring. Bob is in his 80s and recently had a pacemaker installed. His times dropped 10 seconds from the first round to the second.
The Indiana crew of Sparks, Seyer, and Fornefeld had some tough luck this year. However, in a short period of time, these guys put the hurt on some of the more seasoned veterans. It was great to see Jordan Peace and Brian Osman make the journey to the Nats and compete in our three-pole event. Some of the highlights include seeing Scotty and Maureen turn in the fastest time for the event. It was very cool to have them here this year.
Another big one was one of the last heats of the day. It pitted four pilots, all jockeying for a podium spot. Kane, Helsel, Larson, and Troup battled it out for 10 laps and Darwin took home the win, knocking Mike Helsel down a point. Mike's score, in the end, held up for 1st place. Congrats Mike.
Six rounds were flown, and we had two flyoffs to determine 2nd, 3rd, and 6th, the last trophy spot. First up was Jack Kane and Greg Doe for 6th. It was a very close race and Greg ended up with a cut around lap 7, which allowed Jack Kane to cruise to the win.
Next, we saw partners racing for the second spot. Jim Nikodem and Daniel Troup normally call for each other. In this case, they raced against each other. Jim is always on top and has become one of the best pilots in the US. Daniel has come a long way since that first contest where Ray Brown handed him an airplane and said, "Go race kid." Daniel has the ability to not let the pressure get to him, and he flies like he is on rails. This was going to be a good one. Unfortunately, the excitement took over and Daniel ended up with a cut early and Jim finished 2nd.