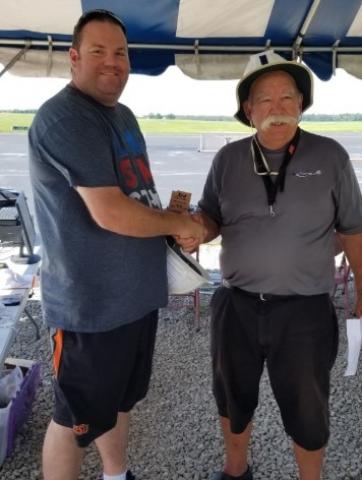 By Tim Sparks
If you thought you had the "Right Stuff," Muncie, Indiana, on July 13, 2019, was the place to be! We had great weather. It was hot but the racing was hotter.
Similar to the last couple of years, we started with some fun two-pole racing, which is a nice change from the hectic pace of the AMA three-pole events. Club 40 is a class that allows sport-type airplanes to race head to head on a two-pole course. The pilots fly out in front of themselves for 10 laps, normally against three other pilots.
The Club 40 crew has developed a stooge release system that takes away the possibility of early launches. This year we had some technical difficulties with the launch system, but the pilots quickly adapted, and the race went off without a hitch. This year we raced two classes, Silver and Bronze. There were 11 entries in Silver and five in Bronze.
Race setup went well. We had the use of the NMPRA timing and scoring system, all set up by Tom Melshimer. No matter what was going on, Tom always had a smile on his face. Our race starter was Dan Kane, a real class act who has been in Pylon Racing since the 1980s when he was just a kid! To see him fly three-pole racers at 200 mph is pure poetry in motion.
Back to the action … with a four-plane heat, it gets really crazy for the first few laps. I'm happy to say that the midairs were minimal. My crash box of spare parts was depleted after a few airplanes lost part of their tails in close encounters. Jordon Peace, Chad Williams, and your humble race reporter were all victims of minor incidents and were ready in the next rounds with parts from the box. Being able to replace the tail on my Colts trimmed racer (thanks Trey) with another matching tail was a lucky break for me.
We started racing around noon and ran continuously, round after round, with two comfort breaks for the course workers. Dan Kane kept the race tempo high, cranking out heat after heat at an expeditious pace. My goal was to run six rounds of racing, but we quickly decided to run a seventh round! It's a record of some sort I'm sure.
For most, it was a blur of activity. I really had no idea who was racing well so I was just as surprised as anyone when the final points were tallied. We didn't have any ties in the top three spots so no flyoffs were required, and no one won all seven rounds. When the awards were handed out, Gary Fisher became the Silver champion and David Poland continued his reign in the Bronze class. Gary was a late addition to the entries, and we are all glad that he and "Old Bob" Petrinec made the drive up from Texas to race with us.
Brad Clayton was the Silver fast time at 1:28.82, a full second over the next fastest. Our youngest competitor was the Bronze fast time winner, Clay Williams, at 1:45.0. It was great to see Clay working with his dad, Chad. He flew great and we hope to see him racing in the future.
If you came and raced with us, thank you for spending the time and effort to be here. If you didn't, you missed an epic day of Club 40 racing.