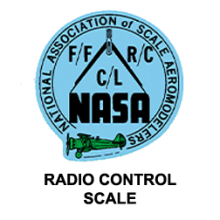 RC Scale models are miniature replicas of full-scale aircraft.  They are judged for the degree of perfection in matching the full-scale aircraft's scaled measurements, finish, details, etc.  How well the models' flight maneuvers match those the full-scale aircraft could perform is also scored.  The models are quite varied; almost any airplane you can think of has modeled.  Today, even jet aircraft are becoming popular and are normally found in the top 10 of any Scale contest.
Nats News
CL and RC Scale wrapped up on Sunday with awards presented to the winners. Everyone one is traveling home and AMA hopes to see you again next year!
The flying portion of CL and RC Scale Nats began Saturday. Pilots battled temperatures in the high 80s to make their flights and increase their scores.
RC and CL SCALE BEGINS: Wow! This year marks the 90th National Aeromodeling Championships and one of many for the site in Muncie, Indiana. John Boyko is the event director (ED) for this year's contest, and he has a lot of fun stuffed into this one weekend.
Pages