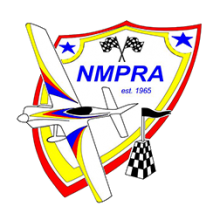 RC Pylon Racing is high-speed excitement.  These small aircraft obtain speeds of nearly 200 mph.  The models fly 10 laps around a course marked by three pylons.  The pilots stand in the middle of the course, turning as the aircraft circle the pylons. Pylon Racing requires good depth perception and quick reflexes.  A tenth of a second flown beyond a pylon can lose the race.
Turns are judged, and any "cuts" (turning short of a pylon) eliminate the lap.  The aircraft typically fly in four heats.  Points are awarded based on the finish place.  The pilot with the most total points after all heat racing is finished is the event winner.  Two classes of Pylon Racing are flown: the Quarter 40 and the Quickie 500.
Nats News
Congratulations to James Gager (left) and Danny Kane (right) who were both inducted into the National Miniature Pylon Racing Association (NMPRA) Hall of Fame during the NMPRA Nats banquet Monday, July 15, 2019.
James, who has spent much of his life very active in model aviation wanted to give back to the hobby after receiving the award. He decided to make a very generous donation of $2,000 to the AMA Foundation and $500 to the NMPRA.
Pages