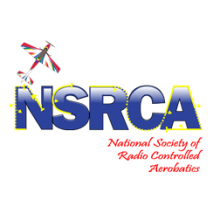 RC Aerobatics aircraft are judged according to the degree of precision with which they are able to execute a schedule of maneuvers.  These maneuvers require a high degree of piloting skill and a specialized aircraft with a great deal of power.  Maneuvers must be smooth and graceful.  Each is assigned a degree of difficulty, which means some maneuvers carry more point value than others. Pilots compete in classes according to their skill levels.
Nats News
By Rachelle Haughn (rachelleh@modelaircraft.org)
Saturday, July 20, was the last day of the RC Aerobatics Nats, held in Blytheville, Arkansas. The final rounds of the Masters, FAI, Intermediate, and Advanced classes were flown that day at the Arkansas Aeroplex.
By Monte Richard (mrichard@compassengineering.com)
Day 3 of the Nats, our second day of flying competition, went well. We shut down flying at 8:30 a.m. to allow a Learjet to come in and land. The show was worth the slight delay.
The sky was overcast, which kept temperatures cool. All sites started flying and we completed FAI about 11 a.m. Advanced is the longer class and didn't finish its second round until roughly 1 p.m., just in time for the start of Intermediate and Masters.
By Monte Richard (mrichard@compassengineering.com)
Hurricane Barry had its effects on the RC Aerobatics Nats, taking place in Blytheville, Arkansas. But despite the rain, we managed to process all of the planes on Tuesday. The airport authority at the Arkansas Aeroplex sponsored a barbecue dinner with fried catfish, barbecue brisket all the fixings, and banana pudding for dessert. Quite a treat.
Pages